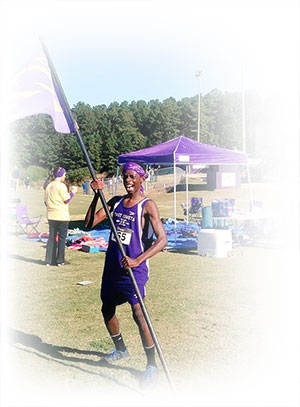 Cross Country (abbreviated XC) is a competitive running team for students in grades 8 through 12. The XC competitive season includes meets in August through November. East Coweta competes regionally in meets in Coweta, Douglas, Fayette, and Carroll Counties. High School races are 3.1 miles long. The courses are mostly run across grassy fields, wooded paths and have a mixture of different hills. Some courses include creek crossings, log jumps, or hay bale obstacles to make it interesting!
Team Information
Varsity teams consist of seven to ten runners who all race together at the same time against other teams. The top five finishers from each team are scored and their finishing places are added up for the total team score. The lowest team score wins. East Coweta fields a Varsity and Junior Varsity team. Some meets also allow a Freshman team to compete separately.
Meet Information
Individual training and optional group runs begin in the off-season during Spring months. Team Group conditioning starts in the summer and extends through the start of school in August. After school begins, practices are held daily during the cross country season. Meets are held on Saturday mornings in various locations, and meet participants ride together on buses from the high school to the meet. One great thing about XC is that everyone competes! Everyone runs the same course, and although the first 5 runners to finish are considered the scoring team, at every meet ALL athletes get to participate. There are no cuts, and no bench to sit on and watch while others play!
New Runners! If you are interested in joining the ECXC Team, read through the information below:

Team Conditioning Sessions for the XC season will begin in June. We practice together 2-3 days per week in the mornings until school begins in August. After school starts, practices will be before or after school – five days per week.
Runners are expected to run on their own in-between team training days. If you only show up for team practices, you won't get very far in XC.
Sign up for a Dragonfly MAX account here. Dragonfly MAX is the place to submit all medical paperwork to the school. Most medical forms are good for one calendar year.
Meets are on Saturday mornings in the Fall – end of August through the beginning of November. Please view the schedule link for our 2023 schedule.
Team dues this year are as follows:
Returning Runners – $150
New Runners – $200
Note that this DOES NOT include your uniform fee, which will be $50.
Getting a sponsor is a great way to have your dues paid for!
GET SOME GOOD SHOES. While you can get good shoes at any department store, we recommend being fitted at either Dragonfly Running in Downtown Newnan or Fleet Feet in The Avenue in Peachtree City. Remember – you can get shoes at ANY department store – Dragonfly and Fleet Feet running speciality stores, and are more expensive, but do offer student athlete discounts.
Striving for Excellence
Each person brings their own set of skills and abilities to the sport. Our goal is to assist each runner to acheive the most out of their skills. Training programs are tailored and feedback from athletes is valued. The coaches work with each athlete both as an individual and as part of the team to help both maximize their potential.
We run different places, different routes, and we have special days where we do something out of the ordinary, just to change things up a little bit.
Running is something that can be done by everyone for the rest of their life. We seek to inspire people to run not just for competitive fitness, but also for good health, stress relief, and to enjoy the great outdoors!
Tracking your Progress
Keeping detailed records of your training helps coaches tailor a proper training plan for each athlete's needs. We use the Strava app to track training time, to communicate, and to encourage each athlete.
Follow the instructions below to join the ECXC Strava group:
Get the app: Go to your favorite app store on your phone and download Strava. Create an account and log in.
Click the following link to join the EC Cross Country group: https://www.strava.com/clubs/23-ecxctf
Be sure to follow others in the group. Be inspired by their awesomeness.